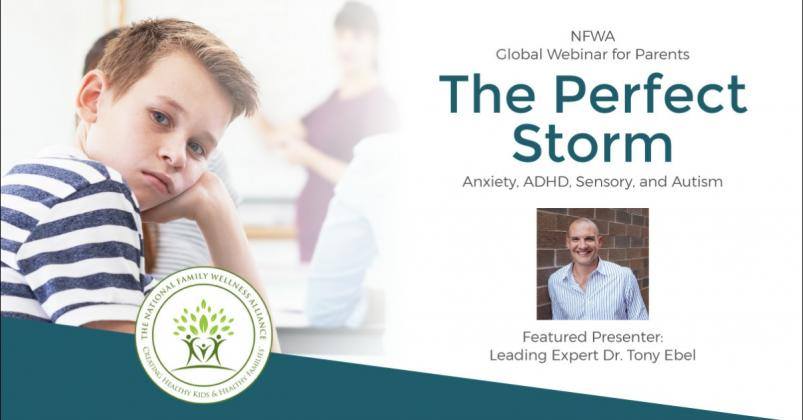 Do you worry your child is struggling with anxiety, sensory, ADHD, or even autism? What if you could help them sleep through the night, have fewer meltdowns each day, handle transitions easier, regulate their emotions, and get sick less often?
Our office is honored to host this NFWA Global Webinar – The Perfect Storm – for YOU!
We are in the trenches with you and see the challenges families are facing with their children not only in our office and local community but across the country too! We are excited to extend to you access to our favorite Pediatric Health Expert, who we have had the privilege to learn from on this very topic for years!
Dr. Tony Ebel will not be taking you through all the things that are 'wrong' with your child, and give you a laundry list of things you must do to 'fix' them. Instead, he'll take you through the science that shows clearly how your anxiety, ADHD or sensory child is not broken and destined to struggle, but instead, what's holding them back, stressing them out, and getting in the way of them being at their very BEST!
Join us in learning from Dr. Tony on the Perfect Storm Global Webinar LIVE on Tuesday, February 25th at 8:30 pm!
You won't want to miss this webinar if…
You are worried about your child's behavior, growth, development, mood, focus, sleep, eating, overall wellness, and performance at home and school.
You have children who have received a diagnosis, such as ASD, ADHD, SPD, ODD, Anxiety (or have been told they should seek one of those labels).
You help care for children and want to make more sense of it all.
Or you're a professional who cares for kids struggling with this day-to-day.
If you've tried it all and your child still struggles – The Perfect Storm is a can't-miss webinar.
Dr. Tony tackles what really starts the "Perfect Storm" and goes back to WHEN it really starts. Hint: it's way sooner and earlier than most parents or providers ever realize—and the ONE THING creating challenges for 80%+ of our kids is NOT what you think it is!
We'll dive deep into the science and neurology behind your child's struggles – from emotional regulation and behavioral challenges, to focus and concentration issues, and more. We'll also cover why so many of these neurologically-challenged kids also struggle with gut and immune issues, and how to help those as well!
You'll receive step-by-step action steps that you can use to start making a difference for your child IMMEDIATELY. Together, we help you learn how to MINIMIZE the tough days and MAXIMIZE the good days for your child at home and school.
This webinar is brought to you by The National Family Wellness Alliance (NFWA), a non-profit organization dedicated to providing education, information, and resources regarding family health and wellness. The NFWA and our members are committed to providing valuable community content to help you create Healthier Kids and Families! The NFWA goals are to empower and educate parents with the latest information and options available through the use of webinars, workshops, and the member network to connect them with providers giving the answers and results they are looking for.
RSVP here: https://croixviewfamily.mywellnessinsights.com/GWPS0001