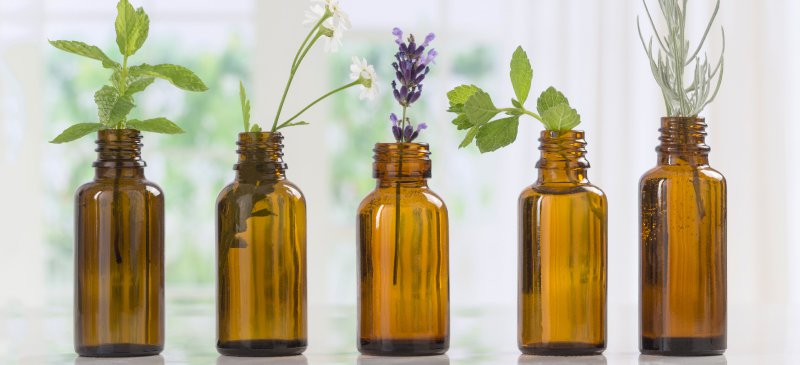 Lavender
Lavender essential oil is one of the most popular, and versatile essential oils. Many people associate lavender with feelings of calm, which is why it is a great addition to your bedtime routine. Lavender is a great oil to diffuse, and mixes well with other oils to create your own signature scent! In the office, we diffuse lavender with peppermint and orange! Try mixing lavender essential oil in with your lotion, shampoo, and other skincare products. Lavender can help soothe minor skin irritations and blemishes, which makes it a great addition to your skincare routine!
Peppermint
With a cooling sensation, peppermint is another popular essential oil. This refreshing oil can be diffused to create a stimulating, energizing aroma to help give you that boost to power through the rest of your day. Try using peppermint in a massage after a long day at work, or after a workout for a cooling sensation to help relax your tired muscles. Peppermint can also be applied to your chest, or added in bathwater for a relaxing, cooling sensation. When added to bathwater, make sure to only use a few drops, and take deep breaths of the soothing, aromatic steam!
Lemon
Who doesn't love the fresh scent of lemon? Lemon essential oil is great for eliminating odors, and can even be added to naturally derived cleaners to boost the fresh scent! Do not use lemon essential oil on granite or stone, as it may etch the surface. Try putting a few drops of lemon oil on a cotton ball, then dropping in the bottom of your waste bin to combat funky odors. Lemon essential oil smells great when diffused, especially in combination with other citrus oils. Many people refer to lemon essential oil as "sunshine in a bottle"!
Frankincense
Frankincense has a grounding, earthy aroma that is most often used during times of meditation. Frankincense has an ancient history, and even dates back to 1500 BCE! Try using frankincense topically to promote the appearance of healthy-looking skin, or to reduce the appearance of uneven skin tone. Frankincense can be diffused to promote feelings of relaxation, tranquility or focus–making this a must-have oil for meditation.
There are so many amazing essential oils out there, it can be hard to pick a favorite! What oils are you using regularly? Share your favorites, and what you love to use them with!