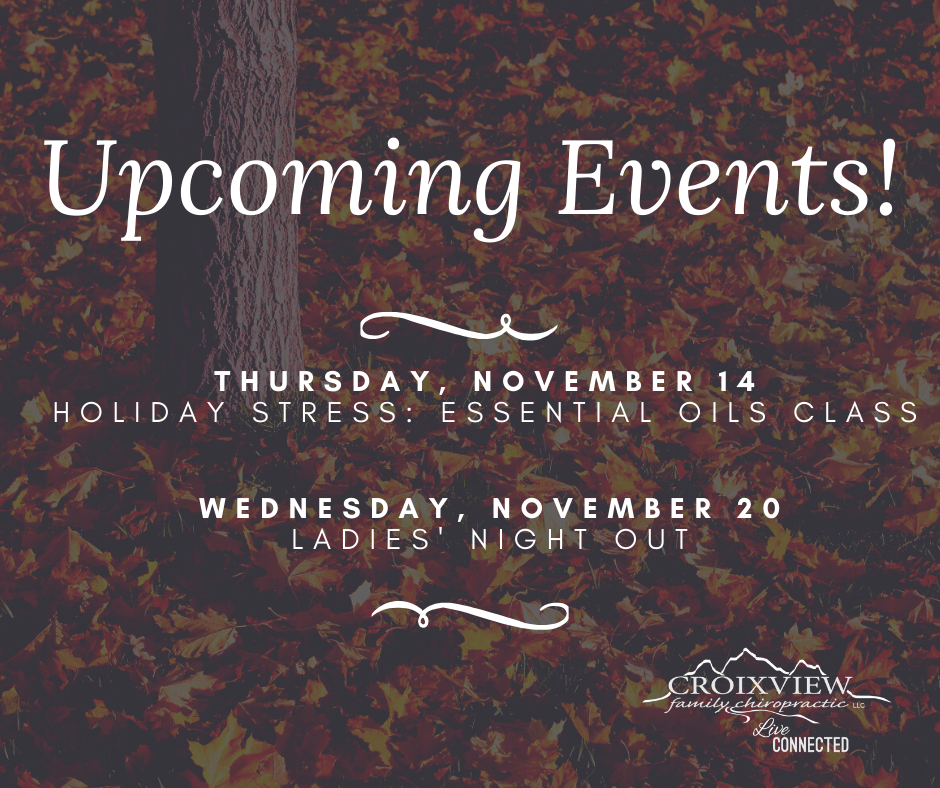 Can you believe it is the middle of November already? The Holiday season is coming up so fast! This can be a stressful time for some, with all the planning that goes into the holidays, the changing weather, and the decrease in sunlight certainly doesn't help! If you're already feeling the stress of the holidays, make sure to check out our event tomorrow night!
Holiday Stress: Essential Oils Class is tomorrow (Thursday, November 14) from 5:30-7:00 pm here at Croixview Family Chiropractic. Join Tena Pettis as she talks about the benefits of essential oils, their uses to combat stress, and ways they can help you sleep! There is a $10 materials fee so you can make-and-take your own essential oil rollerball, with oils to help you fight the stress of the holidays! Give us a call at 715-381-9965 to RSVP, and check out the Facebook event page for more details. https://www.facebook.com/events/2257536147685197/
Ladies' Night Out is Wednesday, November 20 from 6:30-7:30 pm here at Croixview Family Chiropractic. We will have different local vendors set up booths around the office with products to sell. Bring your friend, do some shopping, have a glass of wine and enjoy a fun night out with us! Some of the vendors include: Norwex, Beauty Counter, doTerra essential oils, the YARNiVAL, thermography and surface EMG demonstrations, Keto Wine, and more! This is a free event, so be sure to stop in! More details can be found on our Facebook event page: https://www.facebook.com/events/718470828672419/permalink/736653586854143/
We are so excited for these super fun events! Please let us know if you would like to attend. We can't wait to see you!